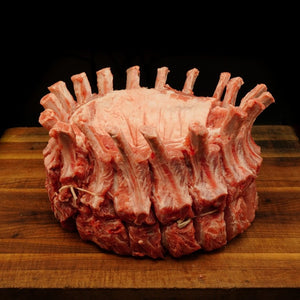 A stunning centerpiece for a holiday meal, nothing says elegance like a crown roast, and this roast is sure to impress. These crown roasts are expertly made from a bone-in pork loin, where each bone is carefully frenched. Offered as 16, 18, and 20 chops. (Anything less than 16 chops will not complete the circle and anything over 20 chops is simply too big.) Each offering includes ground pork for the middle of the roast. Guidelines below...

16 Chops - feeds ~6-8 people
18 Chops - feeds ~8-10 people
20 Chops - feeds ~10+ people

Please note that guidelines obviously depend on how hungry everyone is, what other items you are serving, and what amount of leftovers you want to have, etc.
Need cooking instructions? Click here for more info.